Regular price
Sale price
$21.00
$14.70
Click or tap an ingredient to learn more.
Thirst Things First
Water, Caprylic/Capric Triglyceride, Olea Europaea (Olive) Fruit Oil, Simmondsia Chinensis (Jojoba) Seed Oil, Butylene Glycol, 1,2-Hexanediol, Dipropylene Glycol, Ascorbyl Glucoside, Ascorbic Acid, Citric Acid, Pyrus Malus (Apple) Seed Oil, Citrus Limon (Lemon) Peel Oil, Tocopherol, Niacinamide, Glycerin, Sodium Chloride, Sodium PCA, Caprylyl Glycol, Hippophae Rhamnoides Oil, Tromethamine, Sodium Citrate, Cyanocobalamin, Althaea Rosea Flower Extract, Helianthus Annuus (Sunflower) Seed Oil, Ethylhexylglycerin, Citrus Junos Peel Extract, Phenoxyethanol, Punica Granatum (Pomegranate) Fruit Extract, Hydrogenated Lecithin, Polyglyceryl-10 Diisostearate, Menadione, Biotin, Folic Acid, Pantothenic Acid, Pyridoxine, Thiamine HCl, Fragrance(Parfum)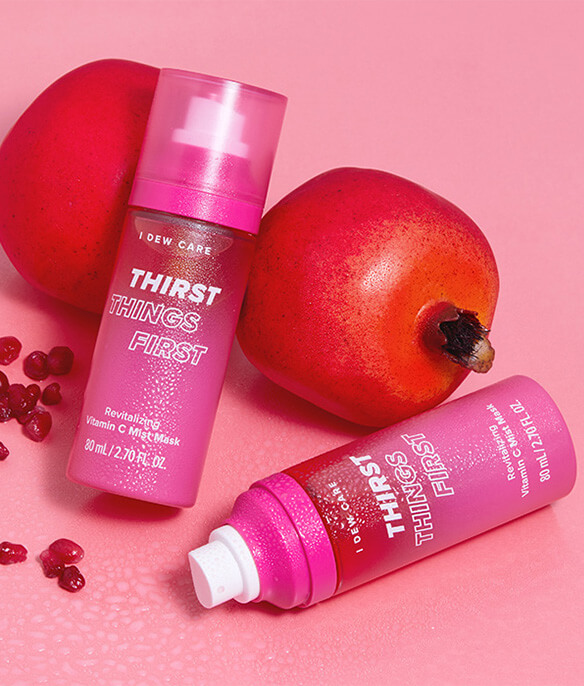 Frequently Asked Questions
Is this product Vegan?
Yes, Thirst Things First is Vegan.

Is this product cruelty-free?
Yes, I Dew Care is a cruelty-free brand and Thirst Things First has not been tested on any animals.

Does this product contain any Parabens?
No, Thirst Things First does not contain Parabens.

Is this product Gluten-free?
Yes, Thirst Things First is formulated without Gluten.

Does this product contain Soy?
Yes, Thirst Things First is formulated with Soy.

Where was this product manufactured?
All I Dew Care products are proudly designed and made in South Korea with the highest quality manufacturers.

What is the formula of this product?
Thirst Things First is a hydrating facial mist that has a water + oil formula.

What are the key ingredients of this product?
Thirst Things First contains Lemon Peel Oil & Apple Seed Oil to help revitalize the skin and lock in moisture. Pomegranate Extract, which is enriched with radiance-boosting vitamins to help hydrate, nourish, and brighten the complexion.

How do you use this product?
To use Thirst Things First, shake the bottle to mix the oil and water formula. Close the eyes, then mist onto the face and neck daily.

In what order of a skin care routine should I be using this product?
You can use Thirst Things first at any time of the day to refresh the skin.

Is this product suitable for all skin types?
Yes, Thirst Things First has a formula that is suitable for all skin types including oily skin. This product leaves your skin with a refreshed, glow without being sticky or greasy.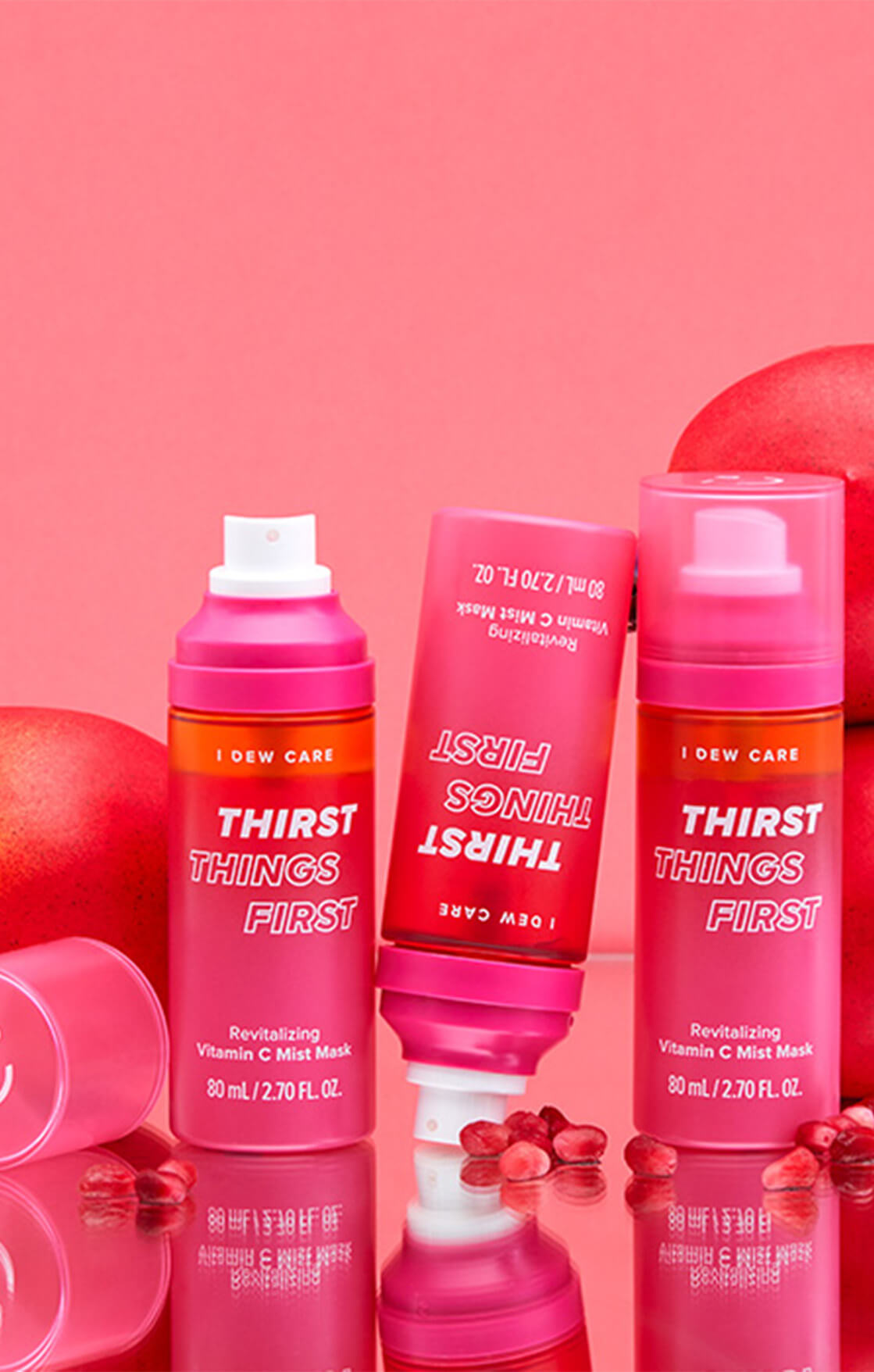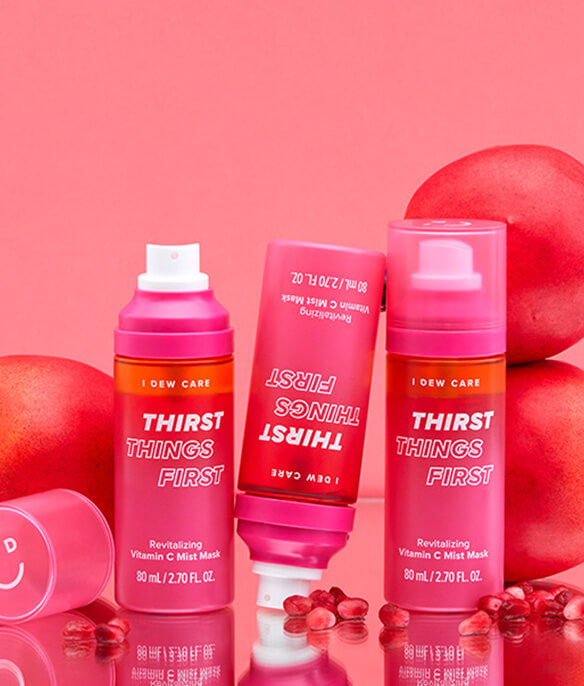 Bottle is made of PET Plastic. Rinse out the remaining contents. Toss into a recycle bin (recycling #1).
Box is made of FSC Paper. Place in curbside recycling or compost.